Disney and Pixar's Elemental Spinner Pin and Color-Changing Mug Set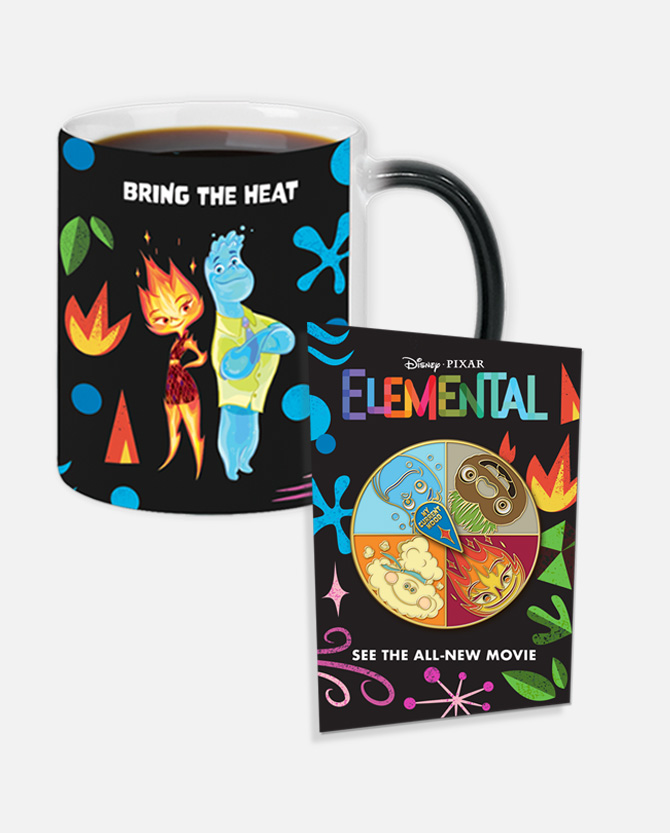 Disney and Pixar's Elemental Spinner Pin and Color-Changing Mug Set
1100 Points
In Disney and Pixar's Elemental, the elements don't mix ... but here in this member-exclusive reward bundle that co-exist beautifully!
The Elemental Color-Changing Mug starts out black, but fill it with a nice hot beverage and watch as Wade and Ember appear in full color! As fun as it is functional, this 10-oz mug is sure to become your favorite. Hand washing recommended.
You'll also get the adorable Elemental Spinner Pin depicting four characters; Wade, Ember, Clod, and Lutz. Crafted from zinc metal alloy and hard enamel, the pin features a fun center dial that can be spun independently.
Pin measures approximately 1.6" in diameter and comes on a 2" x 3" backer card finished with a Mickey-head clutch. Arrives in a polybag for protection.
The Elemental Spinner Pin and Color-Changing Mug Bundle are available for 300 points to qualified Disney Movie Insiders members through 8/11/23 11:59:59 PM PT, while supplies last.
Please Note: pin is not an Official Disney Pin Trading item.
Limit 1
© Disney/Pixar