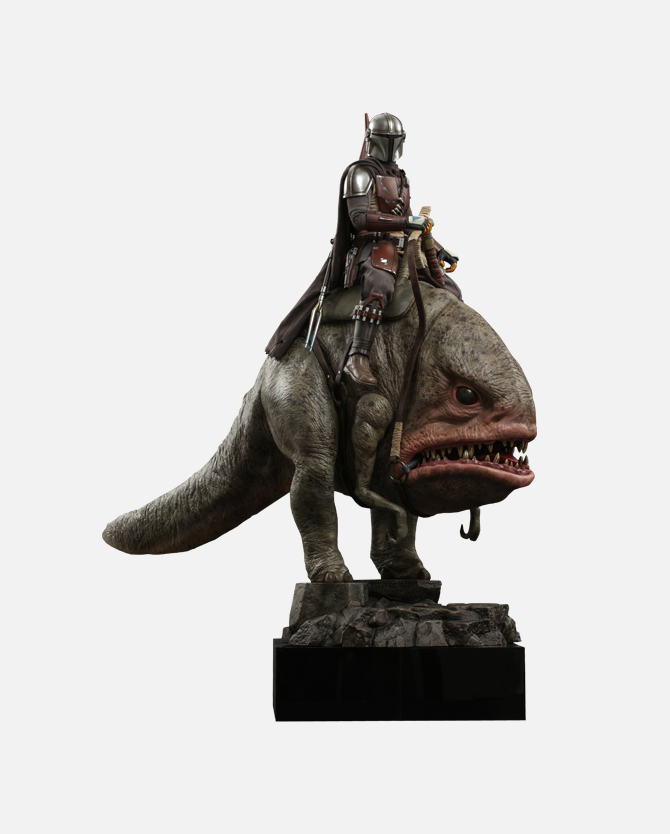 Star Wars: Mandalorian and Blurrg Sixth Scale Figure Set
27500 Points
"You are a Mandalorian! Your ancestors rode the great Mythosaur. Surely you can ride this young foal."
Returning to the beginning of The Mandalorian's story, Star Wars witnessed the eponymous bounty hunter take on a mysterious bounty from a client to search for an asset on the desert planet of Arvala-7. Upon arrival, Mandalorian was assisted by Kuiil the Ugnaught and learned to ride the blurrg in order to reach the settlement seeking the valuable asset.
This exceptional Mandalorian and Blurrg Star Wars Collectible Set will be an amazing addition to your Star Wars Collection!
The Mandalorian and Blurrg collectible figure features include:
A meticulously crafted helmet and armor pieces
A finely tailored outfit with detailed weathering effects
One blaster rifle
One blaster pistol
One saddle
One rocky theme display stand
Figure measures approximately 11.8"H (14.5" H with Base) x 23.62"W x 9.45"L
Adult collectible. Not a children's toy.
IMPORTANT NOTE: To complete your redemption, please wait 3 business days from the date you redeem for a Disney Movie Insiders Member Service representative to contact you. This item will be shipped via UPS Signature Required. We are not able to deliver this item to PO Boxes. Shipping arrangements will be completed upon redemption verification, which may require proof of valid code entry in accordance with the Terms & Conditions of the Disney Movie Insiders Program. Additional restrictions may apply.
Limit 1
9054